Insights Blog
Jan 10 / 2017
The Myth of the 10x Programmer and the Enterprise
brian.walsh@workstate.com (Brian Walsh, Group President, Development Services)
Have you heard of the 10x programmer? They're pretty great. They are the class of programmers who are 10 times as productive as their peers. The only problem is that the tech world is divided on whether these programmers are merely rare – or entirely mythical.
The concept originates in a 1968 article by H Sackman, WJ Erikson and EE Grant,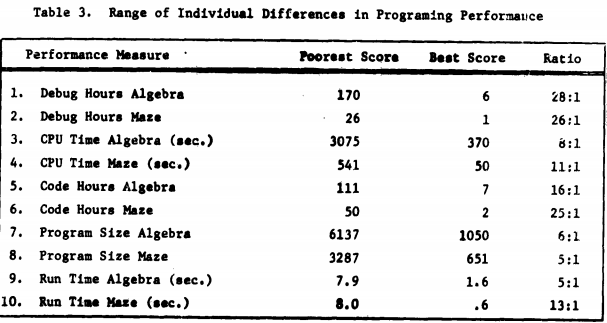 published in Communications of the ACM, titled "Exploratory experimental studies comparing online and offline programming performance," wherein they state, "Table 3 [reproduced here] points up the very large individual differences, typically by an order of magnitude, for most performance variables."

The authors even inject some humor into the dry, statistical article, paraphrasing a nursery rhyme:
When a programer is good,
He is very, very good,
But when he is bad,
He is horrid.
As is sometimes said, it seems legit. The numbers are real. No, the 10x (or 20x or 30x) programmer is not a myth. But before the 10x proponents out there declare victory let me also say this: The 10x developer is not sufficient.
The concept is alluring in its simplicity. It encourages you to focus on individual metrics such as lines of code written or subjective assessments of who is a "good" or "bad" developer.
But in the enterprise, the lines of code and hours spent carefully measured above are in the service of business value. That is your most meaningful metric. And business value actualized through software isn't delivered by individuals acting alone in the enterprise landscape. Enterprise development is now first and foremost a social activity.
How does this apply to your enterprise? Let me help you answer this with a few more questions.
When was the last time you had an important project that was small enough for one developer, however productive, to accomplish alone?
When was the last time you had a project self-contained enough that you didn't need to seek the assistance of resources from other departments to meet your goals?
When was the last time you understood 100% of your requirements before the first line of code was written?
I would bet that your answers to all of the above are along the lines of "I can't remember" or "never." These are just a few of the obstacles to the delivery of business value that cannot be solved by coding efficiency, but must be solved by frequent and meaningful communication.
There are a myriad of implications for your enterprise in how you organize and conduct software development activities. The first is that your technology staffing practices must take social aspects into account. Here are some guidelines:
Don't hire based on resume keywords. In your interviewing process, focus as much on general problem-solving and social acumen as you do on programming.
If you are using a staff augmentation partner, demand to interview the personnel they are placing with you. You can't afford to waste time and effort onboarding a person who is a poor fit with your existing team.
When you find yourself needing to staff an entire team to address a new business opportunity or area of concern, you need to hire the team, not the individuals.
That third point is a doozy; a multivariate problem. The top six resumes are almost never going to be your most productive team. Hiring a development team is hard and time-consuming, but that's what gives you the greatest chance of success.
Maybe you can't wait that long to get started. That's where Workstate Technology Team Rental comes in. We provide a rock-solid team of experienced developers who understand how to integrate with your business. They communicate with you to solidify requirements, and remove impediments to deliver your critical enterprise software in record time. When the time comes, we work to create a seamless handoff to your internal resources, or to your carefully selected team of new-hires.

Do you need to get started now, but don't have the high-functioning team in place to ensure success? We'd love to talk with you about the sort of success our Technology Team Rental can offer you today.
Sign up for
Email Updates